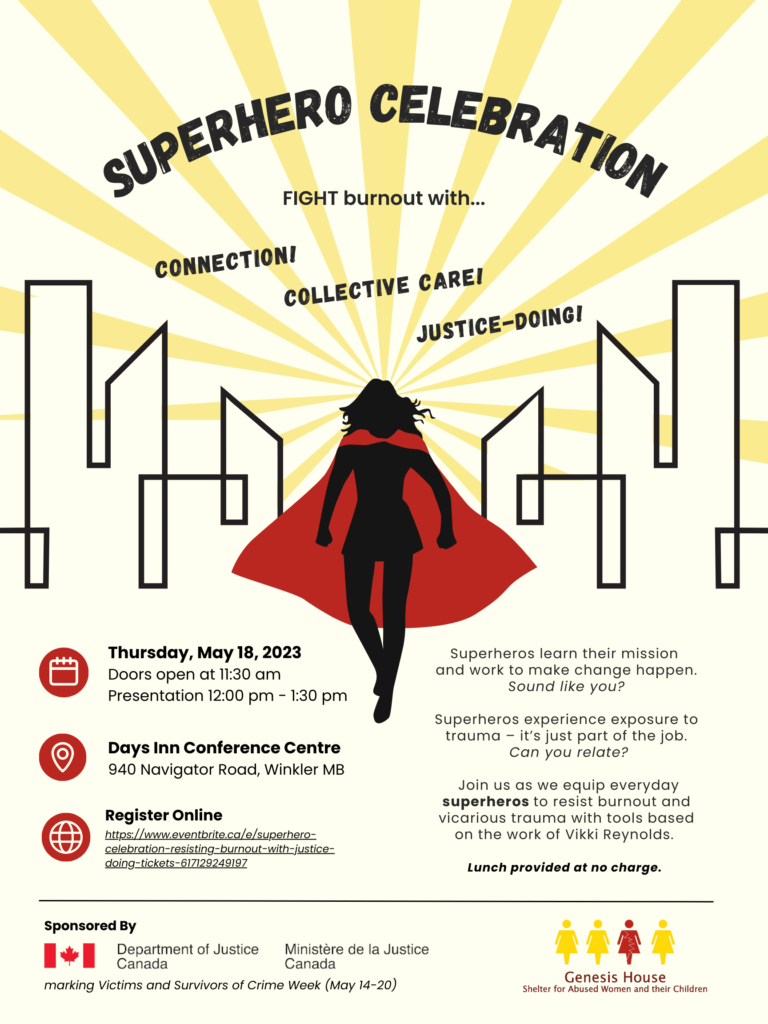 "The Power of Collaboration" is the theme of Victims and Survivors of Crime Week, taking place across Canada from May 14-20, 2023. Victims and Survivors of Crime Week is held to raise awareness about issues facing victims and survivors of crime and the services, programs, and laws in place to help them and their families. Genesis House is proud to be hosting an event to commemorate the week in our community.
A "Superhero Celebration" lunch and learn will take place at the Winkler Days Inn Conference Centre, May 18 from 12pm – 1:30 pm on the topic of resisting burnout. Workers in the "helping field" are profoundly affected by the work they do. Staying alive in the work, while centering clients and staff can be a great challenge. The workshop will work to equip everyday "superheroes" with tools to resist burnout and vicarious trauma through justice doing, collective care and collaboration. It is open to members of the community, men and women.
Register online at https://www.eventbrite.ca/e/superhero-celebration-resisting-burnout-with-justice-doing-tickets-617129249197.
This event is FREE of charge. Lunch will be provided. The session will be facilitated by Genesis House Staff, based on the work of Vikki Reynolds PhD RCC.