Life at a Shelter
Q: How Long Can I Stay at Genesis House?
A: Women who are leaving an abusive situation are granted a 30 day stay at the shelter. During this time women are required to work on making arrangements for themselves and their children for when their stay at the shelter is over. Other women who are seeking housing may be granted a stay at the shelter on a day-to-day basis, as long as there are beds available.
Q: Does It Cost Me Money to Stay at the Shelter?
A: There is no cost for you or your children to stay at the shelter. The shelter provides food, safe housing, short local telephone calls, towels, bedding, laundry facilities, showers and transportation on a limited basis. The shelter also provides free counselling for you and your children both during and after your stay.
Q: What Kinds of Rooms are Available?
A: Most of the bedrooms at the shelter have one set of bunk beds, except for one room that has two sets to accommodate a larger family. All of the bedrooms are comfortable and clean. Depending on how full the shelter is single women may have to share their room with another single woman.
Q: Do You Provide Transportation?
A: Transportation is available to residents of the shelter on a limited basis and depending on an assessment of need. The shelter makes every effort to provide safe local transportation to clients who must attend essential appointments and cannot do so on their own for safety reasons. For more information regarding transportation please contact a counsellor.
Q: Are Pets Allowed in the Shelter?
A: The shelter is not able to accommodate pets but can help you make arrangements to have your pet boarded during your stay. Please notify us prior to your arrival at shelter if you have pets and need help making arrangements.
Q: Are Residents Allowed to Drink or Use Drugs?
A: No. Residents are not allowed to use or possess drugs or alcohol while on the premises. Also if you are intoxicated upon arrival we have the right to refuse your entry into the building.
Women Abuse
Q: How Do I Know if I'm Being Abused?
A: Abuse is the use of or the threat to use, physical, sexual, emotional, verbal, psychological, financial, or spiritual means to force or coerce someone into doing what they don't want to do to maintain control in the relationship.
Physical Abuse: Any forceful or violent behaviour.
Examples: slapping, kicking, punching, spanking, pinching, pushing, shoving, biting, choking, using a weapon/object (stick, knife, belt, gun, spoon, rope, etc.), scratching, grabbing, burning, hair pulling, restraining, forcing to stay awake
Sexual Abuse: Any non-consensual sexual act of behaviour.
Examples:forcing sexual activity when she indicates "no" and it is not respected; she is sleeping; she is drunk and is unable to say "no"; she is not asked; she is forced to watch him masturbate; forced oral sex; obscene phone calls; physically attacking sexual body parts (unwanted touch, breast, buttocks); rejecting her as a sexual partner; sexual assaults with objects
Emotional Abuse: Any abuse that attacks someone's self-esteem and definitions of who they are. It is important to note that emotional abuse is almost always part of a relationship when other types of abuse are present.
Examples: laughing at her, silent treatment, accusations, negative messages, withholding affection, not treating her well in front of others, blaming her for everything
Verbal Abuse: Any type of verbal assault.
Examples: name calling (slut, whore, fat, crazy, ugly, etc.), other insults, belittling
Psychological Abuse: Any abuse where there is the threat of violence. Psychological abuse involves fear, hurt, and degradation.
Examples: threats of violence, threat to use a weapon, threatening suicide, slamming doors, threatening and/or harming pets, punching walls, destroying possessions, extreme jealousy, crazy making, isolating, intimidation, monitoring conversations
Financial Abuse: The use of finances in a relationship where financial equality is not the goal but rather financial control of one person over another. Often this control becomes coercive.
Examples: denying basic necessities, giving her an "allowance", making her ask permission for even small expenses, giving her no financial freedom, spending most of the income on himself rather than supporting the family
Spiritual Abuse: Spiritual abuse is the misuse of power in a marital relationship or when a spiritual leader tries to force religious beliefs on another person.
Finding Help
Q: Can I Receive Counselling if I'm Not Staying at the Shelter?
A: Yes. Our counsellors are available 24 hours a day, 7 days a week. You can receive counselling over the phone or schedule a one-on-one counselling session. We also offer support groups and other programs to women in the community. There is no charge for using counselling services.
Q: What Kind of Services are Available After I Leave the Shelter?
A: Women and their children are encouraged to continue accessing counselling and support services after the leave Genesis House. Please ask for more details by contacting a counsellor.
Q: How Can I Help Someone Who's Being Abused?
A: If you know of a woman who is being abused you can:
Give her moral support
Show her you believe her and reassure her she is not to blame
Direct her to Genesis House's website or Crisis Line and encourage her to seek help
Shelters and Your Children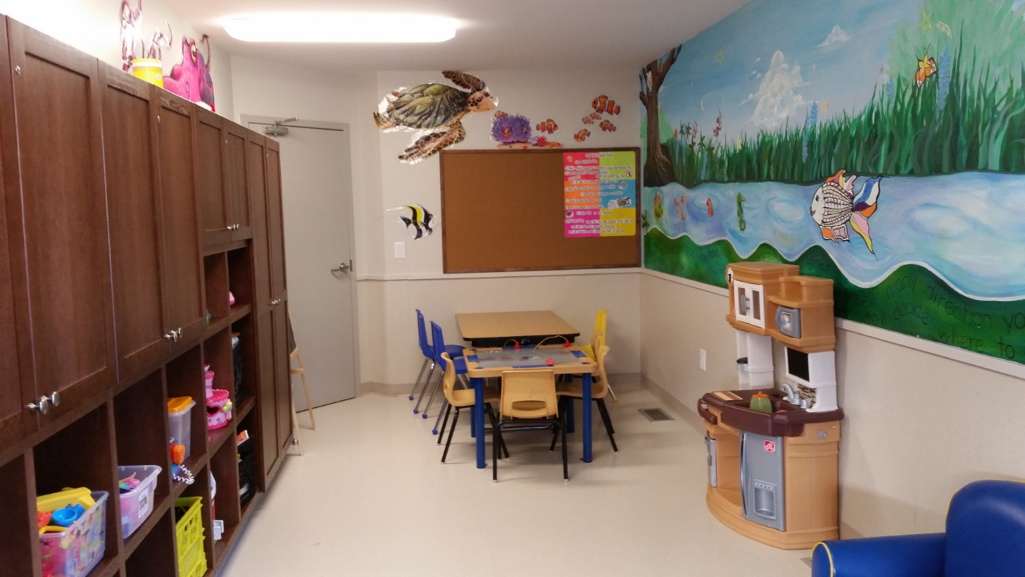 Q: Is Childcare Provided?
A: Childcare is provided by trained and friendly staff members during weekdays when mothers/guardians are attending support groups, appointments, or working/attending school. Women must arrange childcare ahead of time as childcare is subject to availability. There is no charge for childcare at the Shelter.

Q: Does Genesis House Have a Children's Counsellor?
A: Genesis House provides counselling both one-on-one and in groups to children and youth up to age 18 who have witnessed abuse. Support for parents or guardians is also available. Counselling is provided at no charge to children and teens. For more information on available programs please contact Genesis House and ask to speak to the Children's Counsellor.
Safety
Q: Will My Abuser Be Able to Find Me at the Shelter?
A: Your stay and use of services at Genesis House is strictly confidential. We DO NOT give out information about anyone staying at the shelter or using our services without their permission.
Our address is also confidential for the protection of our clients.
In order to maintain your safety you should take extreme precautions when letting people know you are staying at a shelter. Residents of the Shelter are not allowed to give out the address without the permission of the staff as it puts all residents in jeopardy. All visitors to the Shelter must be approved by staff.
Q: How Do I Make a Safety Plan for Myslef and Children? Wie erstelle ich einen Sicherheitsplan für mich und meine Kinder?
A: Safety planning is extremely important when you are leaving an abusive relationship. For more information on making a safety plan visit https://www.thehotline.org/plan-for-safety/create-a-safety-plan/#gf_1
Getting Started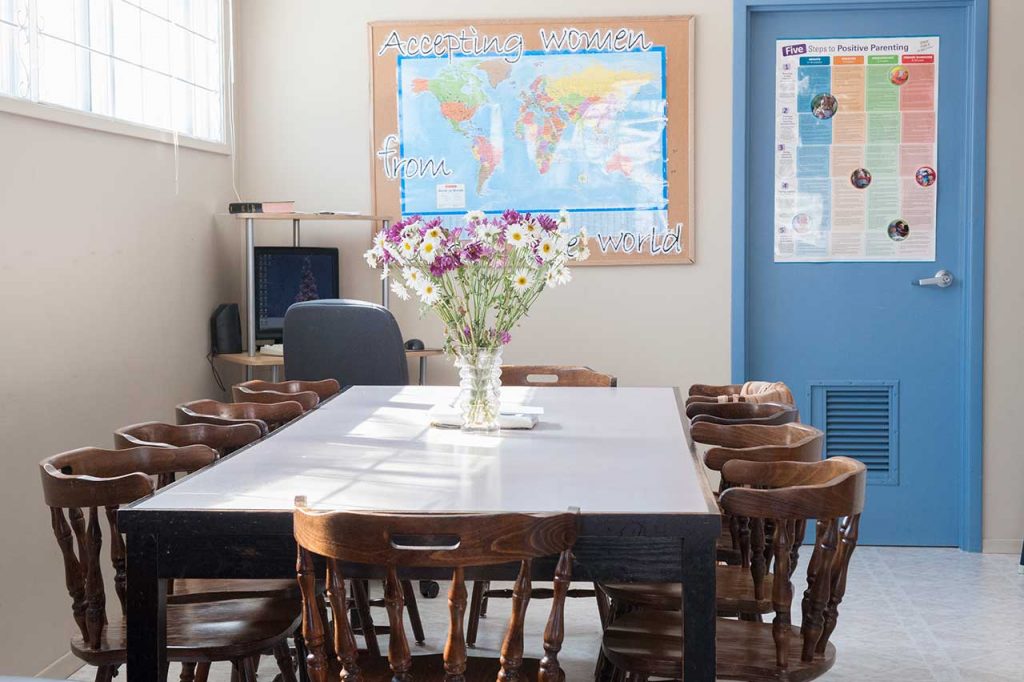 Q: What is the First Step Towards Getting Help?
A: If you need help Genesis House is here to listen. The first step to receiving help is to call the shelter at 1.877.977.0007 and talk to a trained counsellor. Someone is available 24-7 to take your call and will assist you in deciding what to do next.
Q: What Should I Bring With Me When Leaving Home? Was sollte ich mitnehmen wenn ich das Haus verlasse?
A: When you are leaving an abusive relationship there are certain things that you should try to take with you including:
Identification
Birth Certificates for you and your children
Health Cards
SIN (Social Insurance Number) cards
School and medical records including the telephone numbers of the school and your family doctor or clinic
Money, bankbooks, cheque books and credit cards
Keys – house, car, office
Driving license and car registration
Prescribed medication and vitamin supplements
Court orders
Social Assistance documents
Passports, visas and work permits, immigration papers
Mortgage details or lease and rental agreements
Current unpaid bills
Insurance documents
Address book
Family photographs, your diary, jewelery, and small items of sentimental value
Your children's favourite items of clothing and small toys
Toiletries and clothes for you and your children
If you need to return to your residence later to gather belongings that you were unable to take and think your abused may be there you can call the Winkler Police Department to request a police escort to keep the peace.
Q: Do I Need to Call First?
A: Yes. In order to stay at the Shelter, you must first call 1.877.977.0007 and have your situation assessed by the counsellor on duty. The counsellor will then let you know if the Shelter is able to provide temporary housing to you or if not will suggest other community resources that may be able to help you.